How to play Assetto Corsa Competizione on Mac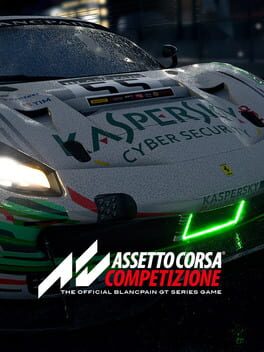 Game summary
Assetto Corsa Competizione is the new official Blancpain GT Series videogame. Thanks to the extraordinary quality of simulation, the game will allow you to experience the real atmosphere of the FIA ​​GT3 homologated championship, competing against official drivers, teams, cars and circuits, reproduced in-game with the highest level of accuracy ever achieved. Assetto Corsa Competizione is born from KUNOS Simulazioni's long-term experience, and it takes full advantage of Unreal Engine 4 to ensure photorealistic weather conditions and graphics, night races, motion capture animations, reaching a new standard in terms of driving realism and immersion, thanks to its further improved tyre and aerodynamic models.
First released: May 2019
Play Assetto Corsa Competizione on Mac with Parallels (virtualized)
The easiest way to play Assetto Corsa Competizione on a Mac is through Parallels, which allows you to virtualize a Windows machine on Macs. The setup is very easy and it works for Apple Silicon Macs as well as for older Intel-based Macs.
Parallels supports the latest version of DirectX and OpenGL, allowing you to play the latest PC games on any Mac. The latest version of DirectX is up to 20% faster.
Our favorite feature of Parallels Desktop is that when you turn off your virtual machine, all the unused disk space gets returned to your main OS, thus minimizing resource waste (which used to be a problem with virtualization).
Assetto Corsa Competizione installation steps for Mac
Step 1
Go to
Parallels.com
and download the latest version of the software.
Step 2
Follow the installation process and make sure you allow Parallels in your Mac's security preferences (it will prompt you to do so).
Step 3
When prompted, download and install Windows 10. The download is around 5.7GB. Make sure you give it all the permissions that it asks for.
Step 4
Once Windows is done installing, you are ready to go. All that's left to do is install Assetto Corsa Competizione like you would on any PC.
Did it work?
Help us improve our guide by letting us know if it worked for you.
🕹 Editor's notes
Assetto Corsa Competizione is a game that is perfect for racing enthusiasts. This game is commonly used in e-sports events, leagues, etc.
It used to be available only for PC gamers, but you can now play it on the PS4 and Xbox One. This was made possible in 2020, but some players might find an issue with the game's visual performance.
The Assetto Corsa Competizione has a wide selection of GT3 and GT4 equipment, and players can choose to race on 19 racetracks. You can race against AI rivals and also compete in many online events.
The races are set in strong weather conditions and excellent visuals, and you also get realistic driving feedback.
Features
The game has a driving feature that keeps monitoring your driving skills. This rating system will also keep a check on your offline driving activities, like when you are racing practice matches.
If your stats show that you are not good enough to reach a high level, you will be unable to participate in the online races.
Assetto Corsa Competizione also allows players to choose the controls in their devices for engine map usage, start procedures, etc. If you are new to this game, you can look up online forums and gaming communities to get an idea about the workings of the settings and features.
Final Thought
If you have a powerful PC, this game will run smoothly and is one of the best driving simulators out there. Professional racers also play this game to get a feel of racing in their off-season.
You do not need a server to play in private online lobbies with your friends, making it a fantastic added feature. However, the player is not permitted to change the race settings.
Another downside to this game might be the inability for players to hit the throttle when changing the car settings in the middle of a race.