How to play Sexy Hiking on Mac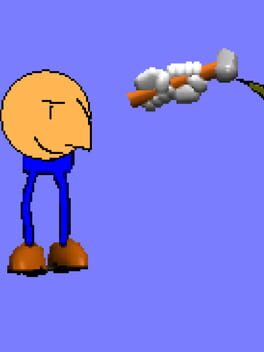 Game summary
Sexy Hiking is a freeware physics-based platformer for PC created by Jazzuo. This is the game that inspired Bennett Foddy to develop Getting Over It with Bennett Foddy.
First released: Dec 2002
Play Sexy Hiking on Mac with Parallels (virtualized)
The easiest way to play Sexy Hiking on a Mac is through Parallels, which allows you to virtualize a Windows machine on Macs. The setup is very easy and it works for Apple Silicon Macs as well as for older Intel-based Macs.
Parallels supports the latest version of DirectX and OpenGL, allowing you to play the latest PC games on any Mac. The latest version of DirectX is up to 20% faster.
Our favorite feature of Parallels Desktop is that when you turn off your virtual machine, all the unused disk space gets returned to your main OS, thus minimizing resource waste (which used to be a problem with virtualization).
Sexy Hiking installation steps for Mac
Step 1
Go to
Parallels.com
and download the latest version of the software.
Step 2
Follow the installation process and make sure you allow Parallels in your Mac's security preferences (it will prompt you to do so).
Step 3
When prompted, download and install Windows 10. The download is around 5.7GB. Make sure you give it all the permissions that it asks for.
Step 4
Once Windows is done installing, you are ready to go. All that's left to do is install Sexy Hiking like you would on any PC.
Did it work?
Help us improve our guide by letting us know if it worked for you.
🕹 Editor's notes
Sexy Hiking? The best frustrating game you'll ever find.
If you're a fan of "Getting over it" by Bennet Foddy, you'll fall in love with this game in seconds. Believe it or not, this legendary game is the inspiration behind the modern punishment of a game and, alas, the reason behind many broken keyboards and mouse.
Sexy Hiking was released in 2001 as a "rage game," but ironically, the music in it, the MIDI DKC, is pleasant and soothing and keeps you relaxed.
Moreover, most of the falls in Getting Over It are due to errors made by the players. Still, in this original 2001 game Sexy Hiking, you'll surely find relief in knowing that the falls are sometimes caused by the hopelessness of the game engine itself.
The game was created by a man named "Jazzuo," And the character in the game is just a man with floating hands with a round yellow head and a pair of blue jeans holding a hammer.
This game weirdly attracts people even though it isn't visually captivating and is not because of the yellow man. The creators did a very weird job on this one, but with every level passed, you get a deep sense of appreciation for yourself, if you know what I mean.
Wrapping up
This game plays with your entire emotions and keeps you asking questions. Since the game has only 4 levels, you can guess how difficult it is. If you're a fan of frustrating 'rage' games, I suggest you try this one.