How to play RF Online on Mac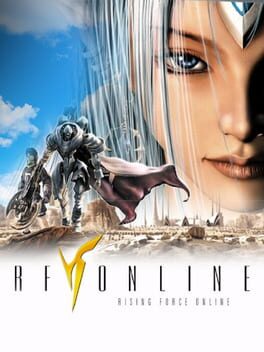 Game summary
RF Online is a Korean 3D MMORPG
First released: Dec 2004
Play RF Online on Mac with Parallels (virtualized)
The easiest way to play RF Online on a Mac is through Parallels, which allows you to virtualize a Windows machine on Macs. The setup is very easy and it works for Apple Silicon Macs as well as for older Intel-based Macs.
Parallels supports the latest version of DirectX and OpenGL, allowing you to play the latest PC games on any Mac. The latest version of DirectX is up to 20% faster.
Our favorite feature of Parallels Desktop is that when you turn off your virtual machine, all the unused disk space gets returned to your main OS, thus minimizing resource waste (which used to be a problem with virtualization).
RF Online installation steps for Mac
Step 1
Go to
Parallels.com
and download the latest version of the software.
Step 2
Follow the installation process and make sure you allow Parallels in your Mac's security preferences (it will prompt you to do so).
Step 3
When prompted, download and install Windows 10. The download is around 5.7GB. Make sure you give it all the permissions that it asks for.
Step 4
Once Windows is done installing, you are ready to go. All that's left to do is install RF Online like you would on any PC.
Did it work?
Help us improve our guide by letting us know if it worked for you.
🕹 Editor's notes
RF Online, abbreviated for Rising Force Online, is a 3D MMORPG that fuses sci-fi and fantasy. If you've never played it, the game focuses on race vs. race and PvP battles. It was first introduced in 2004 by CCR in Korea and relaunched by GamesCampus in January 2015.
Getting Started With The Game
The game is accessible on the Windows platform only. Before getting into the game, you need to be aware that the story is centered around three factions who fight against each other to collect resources.
The three races are Bellato Union, Holy Alliance Cora, and Accretian Empire, and you have the choice to develop your character based on any of these races. The primary objective of the game is to attain the ultimate supremacy.
What Are The Best Features of RF Online?
As you begin your adventure into the NOVUS galaxy, you will be amazed by the futuristic, sci-fi environment and fantasy-infused characters and abilities. And here's a list of the best features of RF Online.
Top-notch graphics.
A storyline based on a political system.
Great soundtracks that help you focus while also entertaining you.
Astounding skill set as compared to other free-to-play MMORPGs.
The freedom to develop your character whichever way you like.
Room For Growth
Here are some areas for improvement that makes RF Online somewhat tricky:
The game's battles sometimes feel repetitive.
Runs short on character variety.
More focused on battles and lesser on the story.
What To Look Forward To
Ever since Netmarble acquired the game's original developer, RF Online has been getting better. Only time can tell us when they will release a mobile version for more players to enjoy its uniqueness in the RPG field.
Until then, you can focus on getting more resources and building your race's inventory. One way to do this is to keep an eye on events!
Bottom Line
While it is difficult to get the perfect MMORPG, we can all agree that RF Online is a decent game. All that players can do is wait and hope the developers come up with better fixes for the issues that drag the gameplay south.
Regardless of all the downsides to the game, the game still stands as a winner among MMORPGs, which is enough to enjoy leisure time.