How to play Pokémon Planet on Mac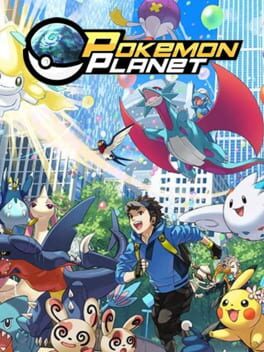 Game summary
Pokemon Planet MMO from pokemon-planet.com
Play Pokémon Planet on Mac with Parallels (virtualized)
The easiest way to play Pokémon Planet on a Mac is through Parallels, which allows you to virtualize a Windows machine on Macs. The setup is very easy and it works for Apple Silicon Macs as well as for older Intel-based Macs.
Parallels supports the latest version of DirectX and OpenGL, allowing you to play the latest PC games on any Mac. The latest version of DirectX is up to 20% faster.
Our favorite feature of Parallels Desktop is that when you turn off your virtual machine, all the unused disk space gets returned to your main OS, thus minimizing resource waste (which used to be a problem with virtualization).
Pokémon Planet installation steps for Mac
Step 1
Go to
Parallels.com
and download the latest version of the software.
Step 2
Follow the installation process and make sure you allow Parallels in your Mac's security preferences (it will prompt you to do so).
Step 3
When prompted, download and install Windows 10. The download is around 5.7GB. Make sure you give it all the permissions that it asks for.
Step 4
Once Windows is done installing, you are ready to go. All that's left to do is install Pokémon Planet like you would on any PC.
Did it work?
Help us improve our guide by letting us know if it worked for you.
🕹 Editor's notes
Pokemon Planet is an MMO that lets you free-roam the Johto and Kanto regions in search of hundreds of Pokemons to catch and train and also allows you to participate in exciting PVP battles and battle gym trainers to become the number 1 Pokemon Master. 
If you are a Pokemon fanatic like us, this game can blow your mind since this game has been coined as one of the best Pokemon game choices by fans, and you won't see yourself getting bored with the adventure the game has to offer.
Fortunately for gamers on pc who are too lazy to download the game, this is a browser-based application, so you only need to create an account online and start playing.
Gameplay
The exciting adventures that await in the Pokemon Planet start with creating an account, and as soon as you're logged in, you get to customize your characters. The game offers plenty of customization options like outfits, which you can choose from various options to separate your character from the rest.
 The real Pokemon characters inspire the hairstyle and its color, and you get to customize your eye color and shape. After you are done with the customization of your character, you get your first Pokemon from Professor Oak's lab. 
You get to choose between three Pokemons: Squirtle, Bulbasaur, and Charmander. After successfully choosing your favorite Pokemon, you start your epic journey. 
The game lets you roam around the two regions freely, and like in the mainstream titles, you will encounter random wild Pokemons on tall grasses and sorts. The game mechanics and battles are all similar as well, and once you've weakened the wild Pokemon through battle, all you need to do is catch them and prepare to train them.
The game also features endless things like farming for legendaries, battling world bosses, filling your Pokedex, participating in clan wars, and more so you can understand the game's longevity and tasks to keep you entertained.