How to play AI: The Somnium Files on Mac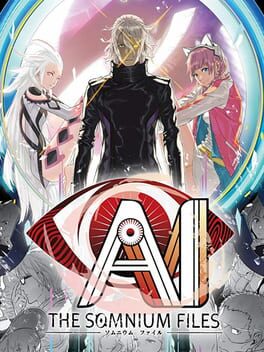 Game summary
Play as detective Kaname Date on the case of an elusive serial killer in this thrilling, sci-fi murder mystery.
First released: Sep 2019
Play AI: The Somnium Files on Mac with Parallels (virtualized)
The easiest way to play AI: The Somnium Files on a Mac is through Parallels, which allows you to virtualize a Windows machine on Macs. The setup is very easy and it works for Apple Silicon Macs as well as for older Intel-based Macs.
Parallels supports the latest version of DirectX and OpenGL, allowing you to play the latest PC games on any Mac. The latest version of DirectX is up to 20% faster.
Our favorite feature of Parallels Desktop is that when you turn off your virtual machine, all the unused disk space gets returned to your main OS, thus minimizing resource waste (which used to be a problem with virtualization).
AI: The Somnium Files installation steps for Mac
Step 1
Go to
Parallels.com
and download the latest version of the software.
Step 2
Follow the installation process and make sure you allow Parallels in your Mac's security preferences (it will prompt you to do so).
Step 3
When prompted, download and install Windows 10. The download is around 5.7GB. Make sure you give it all the permissions that it asks for.
Step 4
Once Windows is done installing, you are ready to go. All that's left to do is install AI: The Somnium Files like you would on any PC.
Did it work?
Help us improve our guide by letting us know if it worked for you.
🕹 Editor's notes
AI The Somnium Files is a game set in a futuristic world, where a player has to solve crimes to catch a potential serial killer. The player, who plays the role of Detective Kaname Date, uses PSYNC technology to try and catch the killer by diving into the minds of potential killers.
The PSYNC technology allows Detective Kaname to read the memories of suspects. Detective Kaname's left eyeball was removed in a strange incident several years back and was replaced by AiBa, an AI unit.
Gameplay
In this game, the player has more control over how the events unfold and the conversations with the suspects. In other games, you can only choose items that are meant to be investigated, but in AI: The Somnium Files, the player is allowed to examine any item in his view.
You cannot go around all the environments or areas of the game when you are investigating as Detective Kaname, and you will have to finish all forms of communication as protocol. However, you can make certain decisions like choosing the next area to investigate, manipulating the detective's view, etc.
In the case of investigating a suspect's memory, it is physically impossible for Detective Kaname to enter a person's thoughts. This is where AiBa steps in, and the player gets complete control of what it can do.
AiBa transforms into a curvaceous female character that can move around any dreamscape. The dreamscapes are referred to as Somniums in this game. Once you enter the dreamscape, you are given a time limit to solve the crime.
Time runs down quickly if you make AiBa move around, but it goes slow if she stands still. So, it is up to you to decide which course of action to take before she starts moving so that you can make the best use of the limited time.
If you fail to solve the puzzle within the given time limit, you will need to restart the game from where you left off or from the start.