How to play Pro Soccer Online on Mac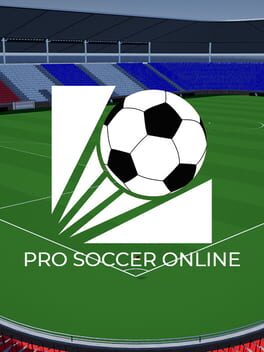 Game summary
Pro Soccer Online is a 1st/3rd person, highly skill based, online multiplayer soccer game. It offers a sports game experience unlike any other with smooth, physics based, input driven gameplay that is competitive and rewarding with no pay to win mechanics.
First released: Nov 2021
Play Pro Soccer Online on Mac with Parallels (virtualized)
The easiest way to play Pro Soccer Online on a Mac is through Parallels, which allows you to virtualize a Windows machine on Macs. The setup is very easy and it works for Apple Silicon Macs as well as for older Intel-based Macs.
Parallels supports the latest version of DirectX and OpenGL, allowing you to play the latest PC games on any Mac. The latest version of DirectX is up to 20% faster.
Our favorite feature of Parallels Desktop is that when you turn off your virtual machine, all the unused disk space gets returned to your main OS, thus minimizing resource waste (which used to be a problem with virtualization).
Pro Soccer Online installation steps for Mac
Step 1
Go to
Parallels.com
and download the latest version of the software.
Step 2
Follow the installation process and make sure you allow Parallels in your Mac's security preferences (it will prompt you to do so).
Step 3
When prompted, download and install Windows 10. The download is around 5.7GB. Make sure you give it all the permissions that it asks for.
Step 4
Once Windows is done installing, you are ready to go. All that's left to do is install Pro Soccer Online like you would on any PC.
Did it work?
Help us improve our guide by letting us know if it worked for you.
🕹 Editor's notes
Pro Soccer online is a highly skilled game where you can play against random players or friends online. It is a minimalist soccer game with options to play between 3v3 players and 12v12 players.
Features
Matchmaking
Stats and Leaderboard Table
Custom Lobbies
Player Customization
You are responsible only for yourself as a player, and cannot control how your teammates play. Though minimalist, you need to perfect your skills before you play the game online to create a good partnership with your team members.
My personal favorite is to play 6 versus 6 players. It lasts up to 12 minutes, and it is a fast game. I was initially surprised that the ball went to the opposing team for a goal kick when the ball went out of play. Other than that, the rules were the same for fouls.
It was impossible to injure a player, but you can receive yellow cards. A second yellow card meant you were kicked out of the game, with only 5 players remaining on the pitch.
You are given the option to play with a goalkeeper, two defenders, a midfielder, and two strikers in a 6-versus-6 mode. Each player is supposed to master different skills so that the team game maintains fluidity and efficiency.
Pro Soccer Online offer basic skills like shooting, passing, dribbling, and juggling the ball. You can also head the ball and tackle the opposing players when necessary. Though the skills are limited, you can create your own moves by mixing up the available options and saving them for future use.
There is a button for every skill you want to execute, and it does not come easy. You need to practice a lot before playing actual games online against other players.
I had fun playing this game as it reminded me of the old FIFA soccer games. This game will be a treat for people who do not like playing complex games.