How to play Dungeons & Dragons: Chronicles of Mystara on Mac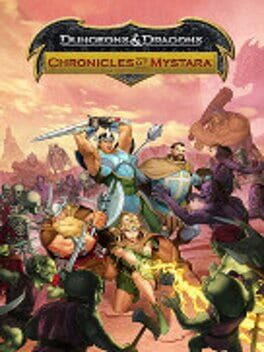 Game summary
Dungeons & Dragons: Chronicles of Mystara brings reworkings of two of Capcom's classic arcade hits - Dungeons & Dragons: Tower of Doom and Dungeons & Dragons: Shadow over Mystara – together in one definitive digital package. Just as in the arcades, up to four players will select their character class before doing battle against the mythical beasts from the Dungeons and Dragons' universe with a mix of melee, range and magic attacks.Key FeaturesGGPO Enhanced Online With Drop-in/Drop-out Co-Op Play: Community-trusted GGPO powers a smooth online experience that allows up to four players to drop in or out of games in progress at will. Classic Arcade Gameplay with a New Twist: Players can enjoy the original arcade modes or mix up the gameplay with House Rules that can completely alter the experience. Some examples of House Rules: Unbreakable - Equipable items have infinite durability. Never worry about breakage again! Enemy Rush - Fight against time in this special Time Attack Mode. Start the game clock with 30 seconds and increase the clock with each enemy you kill! Make it Rain – Get rich quick! Enemies and chests drop tons of gold! Challenge System: A newly introduced RPG-like system that fits on top of the existing games and provides a myriad of challenges for players to complete. Players can level up and obtain Vault Coins to be used in the Vault. The Vault: A treasure trove of unlockables and gameplay loot can be purchased with Vault Coins earned via the Challenge System. Character Visualizer: This UI visualizer tracks which characters the players and their friends most often use. Players can utilize the tool to create a more balanced multiplayer dungeon crew, or to see which under-used characters they should try out next. Leaderboards & Connected Arcade: Players can track how they stack up against their friends through leaderboards, as well as view a full breakdown of gameplay related stats.
First released: Jun 2013
Play Dungeons & Dragons: Chronicles of Mystara on Mac with Parallels (virtualized)
The easiest way to play Dungeons & Dragons: Chronicles of Mystara on a Mac is through Parallels, which allows you to virtualize a Windows machine on Macs. The setup is very easy and it works for Apple Silicon Macs as well as for older Intel-based Macs.
Parallels supports the latest version of DirectX and OpenGL, allowing you to play the latest PC games on any Mac. The latest version of DirectX is up to 20% faster.
Our favorite feature of Parallels Desktop is that when you turn off your virtual machine, all the unused disk space gets returned to your main OS, thus minimizing resource waste (which used to be a problem with virtualization).
Dungeons & Dragons: Chronicles of Mystara installation steps for Mac
Step 1
Go to
Parallels.com
and download the latest version of the software.
Step 2
Follow the installation process and make sure you allow Parallels in your Mac's security preferences (it will prompt you to do so).
Step 3
When prompted, download and install Windows 10. The download is around 5.7GB. Make sure you give it all the permissions that it asks for.
Step 4
Once Windows is done installing, you are ready to go. All that's left to do is install Dungeons & Dragons: Chronicles of Mystara like you would on any PC.
Did it work?
Help us improve our guide by letting us know if it worked for you.
🕹 Editor's notes
The 90's glory
You'll love this classic if you're a fan of arcade games and side-scrolling beat 'em ups. The Dungeons And Dragons: Chronicles of Mystara is a bundle of the 90's classic Dungeons And Dragons: Tower of Doom and its sequel, Shadow over Mystara.
This epic arcade revival, which comes in a downloadable package, can be bought for a small sum of money through steam for consoles and pc. But why is it so popular? The game is not only popular because it drives nostalgia up in people, but it is the first time a popular arcade game has been re-released in the English language.
Capcom also spiced it up a notch by adding modern features into the game. Both the games featured in the Chronicles of Mystara have been revamped with new in-game challenges that add a solid twist to the story or the game.
Other features like the widescreen support and co-op play online for four players are also included, so rest assured, you can have tons of fun with more fellow adventurers. If not, fret not. You can also enjoy a classic solo quest on both games if you are prepared for the complicated later stages of the game.
The release of the English language Chronicles of Mystara has been a game long awaited for all arcade game lovers, and it doesn't disappoint. Would you be up for the challenges in Dungeons And Dragons: Chronicles of Mystara?