How to play Doctor Hauzer on Mac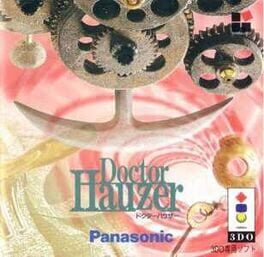 Game summary
In 1952, an Investigator (You) is searching for the archeologist Dr. Hauzer, who has disappeared. The Investigator finds a large house in the middle of nowhere that belonged to Dr. Hauzer. The home is built over an archeology site, with Doctor Hauzer having become obsessed with a deity named Kellbim. It is up to you to find Doctor Hauzer and what happened to his interns. One of the earliest Survival Horror games, Doctor Hauzer was released as a Japan exclusive for the 3DO by a development studio that was well-known for their detective\mystery visual novels, top-down RPGS, Point-&-Click Adventure games, and Japanese localizations of Western games like Prince of Persia up till this point. Doctor Hauzer was Riverhill Soft's first foray into 3D. Influenced by the successful Alone In The Dark, your character will navigate a fully 3D environment and die numerous times in the house's deadly traps, including some that are unavoidable for first time players. You have unlimited save games so you can view the death animations as part of the fun. You can switch the view between first-person, third-person, or overhead. Choosing a different view will help you overcome some traps, including some platforming. There are several major reasons why this game was never released outside Japan: It's relatively easy with no monsters to fight, is roughly 1-hour long, has an incredibly bad framerate that can get as low as 3 frames-per-second (the 4DO emulator can "overclock" the CPU up to 400%, making it less choppy), some music is plagurized like the theme song being a near identical copy of the Beetlejuice movie's theme, and was on a platform that was already failing in the West. An English fan translation is available, with only the FMV's remaining untranslated.
First released: Mar 1994
Play Doctor Hauzer on Mac with Parallels (virtualized)
The easiest way to play Doctor Hauzer on a Mac is through Parallels, which allows you to virtualize a Windows machine on Macs. The setup is very easy and it works for Apple Silicon Macs as well as for older Intel-based Macs.
Parallels supports the latest version of DirectX and OpenGL, allowing you to play the latest PC games on any Mac. The latest version of DirectX is up to 20% faster.
Our favorite feature of Parallels Desktop is that when you turn off your virtual machine, all the unused disk space gets returned to your main OS, thus minimizing resource waste (which used to be a problem with virtualization).
Doctor Hauzer installation steps for Mac
Step 1
Go to
Parallels.com
and download the latest version of the software.
Step 2
Follow the installation process and make sure you allow Parallels in your Mac's security preferences (it will prompt you to do so).
Step 3
When prompted, download and install Windows 10. The download is around 5.7GB. Make sure you give it all the permissions that it asks for.
Step 4
Once Windows is done installing, you are ready to go. All that's left to do is install Doctor Hauzer like you would on any PC.
Did it work?
Help us improve our guide by letting us know if it worked for you.